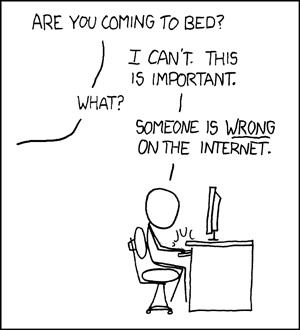 Caption: What do you want me to do? LEAVE? Then they'll keep being wrong!


The bad thing about Internet is, if you are an assertive person, you will soon find yourself hooked in the abundance of discussions and debates out there. You spend endless hours trying to prove your point to friends and strangers alike.

And you don't even know what you stand to gain from doing so. Sense of satisfaction? Assertion of intellectual superiority and maturity? Or as this comic succinctly points out, the "duty calls"?

I am one of them. And I need to learn more self control. 共勉之.


p/s: Do visit xkcd.com for many other great comics. The best comics out there for geeks.